HSM StoreEx HDS 230 - 0,78 x 1.18-2
HSM StoreEx HDS 230 - 0,78 x 1.18-2
The high quality materials used together with HSM's proven "Made in Germany" high manufacturing standard ensure that the product is both safe and durable for the user.
The induction-hardened, solid steel cutting rollers are robust and ensure a high level of durability!
To enable you to shred documents in a continuous operation mode, the shredder has a powerful motor. This gives not only reliable continuous operation, but also a high level of shredding capacity.
The automatic reverse function in the shredder eliminates material jams and ensures your shredding operations run smoothly.
Our multifunction control panel means that anyone and everyone can use the device intuitively without having to undergo extensive training.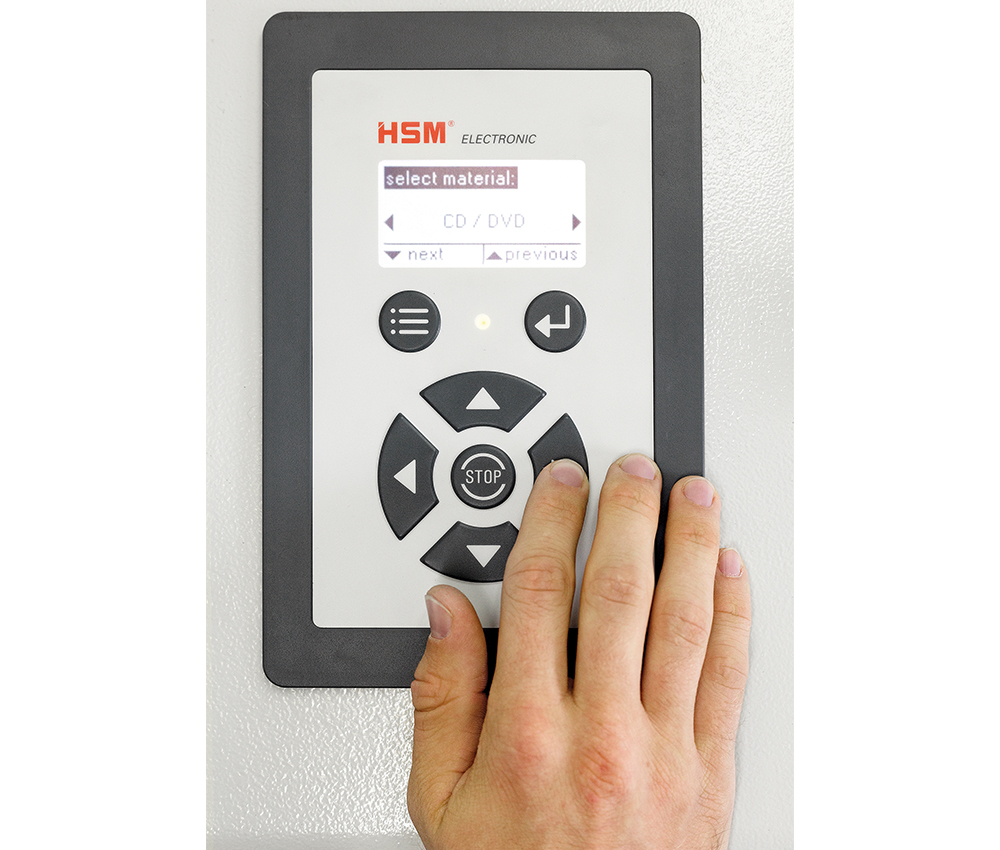 The discharge conveyor belt makes the collection of the shredded material easy and convenient. Any standard container can be used to collect the material at the end of the conveyor belt.
The device can be used on a mobile basis and has smooth-running, stable castors with a parking brake.
It may be necessary to stop the machine immediately so we have equipped the device with an emergency off switch which, when activated, will do just this.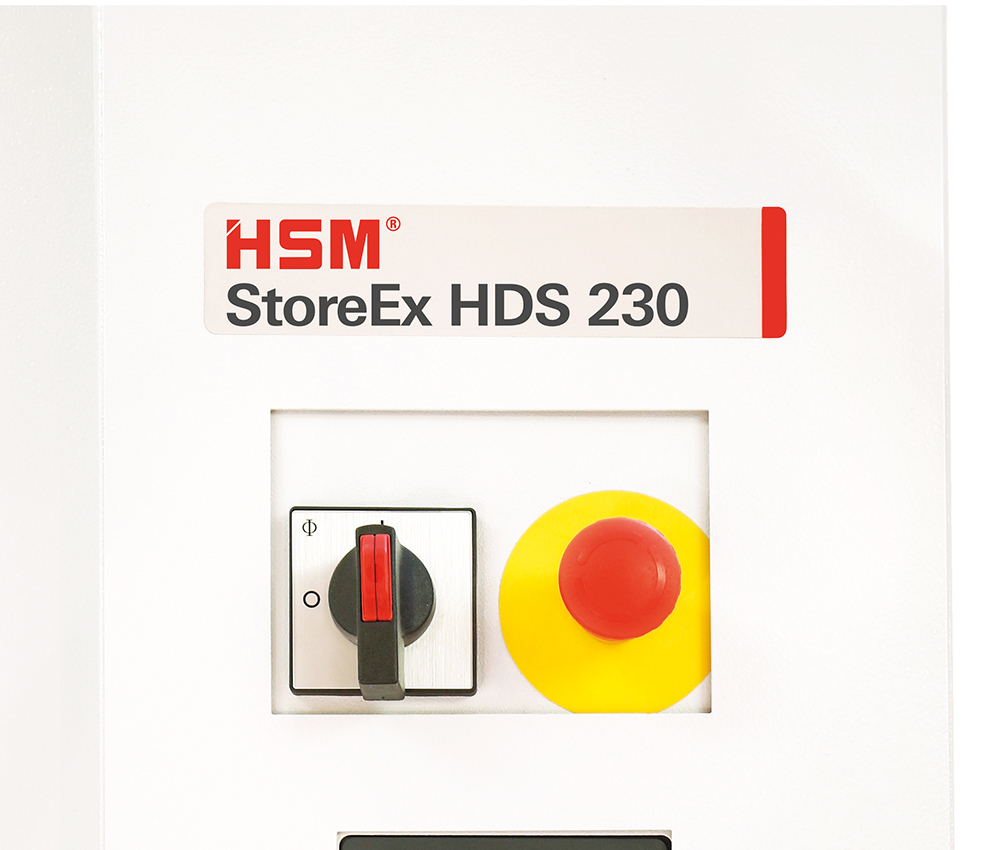 Our device has a practical storage table to put data carriers on before or during your shredding operations.
Energy efficiency class IE3 compliant motors.
Technical data "HSM StoreEx HDS 230 - 0,78 x 1.18-2"
| | |
| --- | --- |
| Order number: | 1778117 |
| EAN | 4026631042376 |
| Cutting type: | particle cut |
| Cutting width: | 0.78" |
| Particle length: | 1.18-2" |
| Security level (DIN 66399): | E-2|H-4|O-1|T-2 |
| Cutting speed: | 59.05 ft/min |
| Driving power: | 7.38 HP |
| Voltage / Frequency: | 208 V / 60 Hz |
| Cutting capacity HDD up to 3,5": | 360 St/h |
| | |
| --- | --- |
| Durchsatzleistung CD/DVD: | 7500 St/h |
| Durchsatzleistung Magnetbänder: | 500 St/h |
| Länge der Einfüllöffnung x Breite der Einfüllöffnung x Höhe der Einfüllöffnung : | 8.74" x 5.71" x 1.42" |
| Noise level (idle operation): | ca. 57dB(A) |
| Weight x Depth x Height: | 40.94" x 112.52" x 66.77" |
| Weight: | 1697.56 lb |
| Colour: | iron grey, light grey |
| Shredder material: | Credit card, CD/DVD, USB sticks, Floppy disk, Hard drives up to 3.5", Magnetic tapes up to 3.5" |
| Protection class DIN 66399: | 2 - high, 3 - very high |